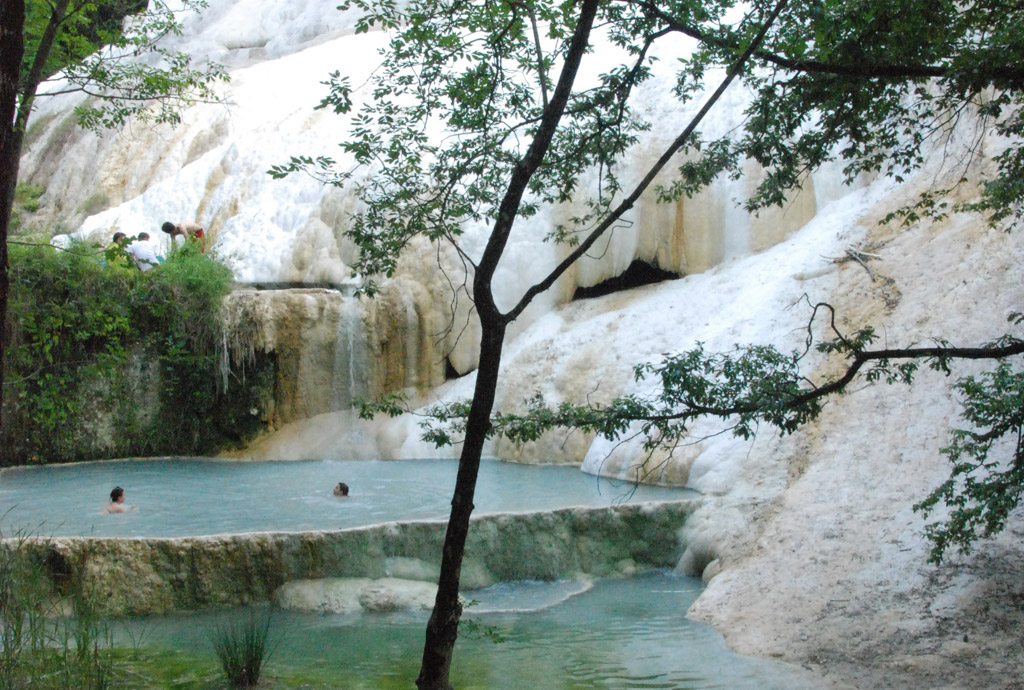 FREE NATURAL HOT SPRINGS IN BAGNO VIGNONI AND SAN FILIPPO
Bagno Vignoni and Bagni San Filippo are quaint villages famous for their natural hot springs. Thanks to their strategic position near the famous Via Francigena,
used by pilgrims all over the world on their way to Rome, their beneficial sulfurous waters have been the destination of important historical figures from the time of the Etruscans to Lorenzo the Magnificent, Pope Pious II, and Saint Catherine of Siena.
Have you ever experienced a natural hot springs? Imagine how relaxing it would be to immerse yourself in these opalescent waters of volcanic origin. In fact, nearby Mount Amiata feeds many of the natural sources from which this glorious hot water, rich in sulfur and minerals, flows from the depths of the earth around this ancient volcano, near small villages like Bagno Vignoni, Bagni San Filippo, Saturnia, and Santa Fiora.
If you are planning a trip to Tuscany, whether it's summer or winter, you shouldn't miss an opportunity to explore these spots, to amble along the scenic paths of chestnut and oak trees, or through the middle of the countryside where time stands still and remains as it was thousands of years ago. These natural hot springs under the open skies are free for adults and children and can be visited when you would like, and where you can experience the natural beauty of limestone creating waterfalls and natural pools. It is a immersion of well-being for your mind and body: let yourself go and delight in the enveloping water of the natural hot springs.
For other ideas of what you can do in the area around the natural hot springs check our list of "places to visit in tuscany".
Contact us for more information and we will suggest the hot spring or spa that is right for you.
The Natural Pool in Bagno Vignoni
Bagno Vignoni is a picturesque village high on a hill with a magnificent view of the Rock of Tentennano in Castiglione d'Orcia. What makes Bagno Vignoni distinctive is the basin of hot spring water (52º Celsius) that you will find in the middle of the main square, which dates back to the 16th Century. Don't miss the view of this square at sunset when the steam rises up creating a singular atmosphere evocative of Bagno Vignoni. The waters run through the town along a stone duct where you can soak your feet, while admiring the beautiful landscape of the Val d'Orcia. Very relaxing especially after a long walk!
The warm waters of this natural spring run through the Natural Park of the Mills (Parco Naturale dei Mulini) forming a large natural pool, called La Gora, hidden amid the spontaneous vegetation and landscape of the area. It is not easy to find, but we will give you directions if you'd like to take a dip!
Or if you prefer convenience, you can take advantage of the pool Val di Sole at the Hotel Posta Marcucci, where the pools use the same water from the natural spring of Bagno Vignoni and where luxuriating waterfalls of hot water are surrounded by a beautiful green lawn to relax and observe the spectacular view of Rocca d'Orcia.
The pool at Val di Sole is not open only to hotel guests, but also to those who want to spend a few pleasant hours with their family.
The Waterfalls and Natural Pools of Bagni San Filippo
Our favorite hot springs is Bagni San Filippo, a natural hot spring, which is found along a path through the woods.
The striking feature of this spring is the "Balena Bianca" or "White Whale," an spectacular white limestone formation from which flows the sulfurous water at 48° C, allowing you to immerse yourself in its warm embrace even when the air temperature is cold. Situated in a wooded park among chestnut trees, it is a hidden and charming location of waterfalls and natural pools where you can enjoy and bathe in the thermal waters, which give brightness and softness to your skin.
We are sure that your kids will love this phenomenon of nature that is always open and free!